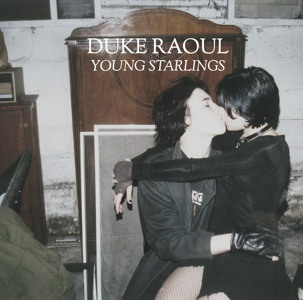 Collectives are cool. Looking back to something like Elephant 6, or something modern like the Cats Purring collective, getting a bunch of like minded people to make music together almost always leads to good things. case in point when I stumbled onto the Anti-Ghost Moon Ray collective and one of their offshoot bands release's
Young Starlings
by Duke Raoul.
What's fun with
Young Starlings
is playing the "spot the influence" game with the cassette. "Clock & Dagger" would not make it feel out of place on one of Yeasayer's earliest releases. Else where the band crafts more traditional indie fare on the EP's other three tracks. The title track sounding like a much more dreay, dark Pains of Being Pure of Heart tune, and "Break Up Your Routine" sounding like The Cure covering Sonic Youth circa
Rather Ripped
. Closer "Made of Magic" is especially excellent , going from ricocheting, dancey post-punk riffs of the verse to indie rock of the chorus, to the mini noise crescendo that helps to close the track before snapping back into place with the intro riff.
Despite all the different refrences points,
Young Starlings
is definitely a case of being greater than the sum of it's parts (even though the parts aren't bad to begin with). What connects all the different points of Duke Raoul's release is the ever present retro feel. Despite all the a fore mentioned modern bands, this cassette could have easily be heard playing on a college rock station around 1989. A mixture of the ever present, slight lo-fi sound of the recording, plus the old school style of the cassette design (down to the stereo logo) help to solidify this. I know a lot of this unintentionally sounds dismissive, however trust me when I say that
Young Starlings
contains a massive amount of quality to its ever so slightly scattered four songs.
(mp3)
Duke Raoul-Young Starlings
Links:
Duke Raoul's Facebook page
Buy Young Starlings here, from Prime Cut Music
Anti-Ghost Moon Ray Collective's Website