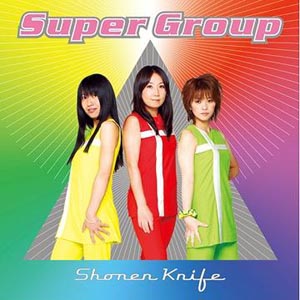 At some point during their career, a band receives a memo from the rulers of how bands must sound. In that memo, there are two rules listed. The first one says that you must change your sound album to album. The second rule says that if you don't follow the first rule, we (the rulers of how bands must sound) will call you unoriginal and uncreative no matter how good you sound, and will banish you to realm of wherever Interpol and the Strokes now are. There is no exception to this.
Now the point of this story is that there is, well, an exception to this rule. Maybe it has to do with being separated from everyone by living in Japan, but Shonen Knife has been making their signature brand of punk pop (no I didn't get that in the wrong order) for almost 30 years now. That is slightly scary. And now after almost a year since it was released in Japan, Super Group is finally being released in the states. And you know what? The rulers of how bands must sound were dead wrong. This is some of the catchiest songs of the year.
First things first, however. This is a Shonen Knife album. All the high-pitched Japanese vocals, blatant popness, and unintentional tweeness without trying to be twee are all still intact for this album. So if you didn't like that on their previous albums, chances are slim that you are going to like it on Super Group any better. That said there are things being done differently here (I know, completely contradictory to the point of "how bands don't need to change" I was making in the previous paragraph. Just deal with it). This is their first album were every song is sung entirely in English. So while to charm of hearing (bass or is it guitar players name) sing in her native tongue, the cuteness factor of here singing in English over rides this problem easily. Also, the rifts for the album are slightly, slightly, heavier on this album. It's something that doesn't really add or take away from the music, but is worth pointing out anyway. However, in the end, the center of any Shonen Knife album is whether the songs are catchy enough and hold up. And for Super Group they do. The catchiest/best track of the album actually winds up being the first and title track, with its thick bass line, distorted guitar, wonderful girl group harmonies during the chorus. Not to discredit the other tracks. What other band can make a song about feeding a deer (Deer Biscuits) or finding a bug (Slug) seem like the funest thing in the world. There's even a Wings cover (Jet) thrown into the mix. Be warned, don't not listen to this album on repeat, you risk a serious sugar rush attack.
Yes, so people will complain that this album, or any of their albums cannot reach the greatness of Shonen Knife's albums from the 80's. The thing is, Shonen Knife realizes this long ago. And while they may never be able to reach the height of those albums, they do give us albums like Super Group, and I am perfectly satisfied and happy with that.
Shonen Knife's Website
North America Tour Dates:
10/16 New York, NY- Santos Party House
10/17 Ithaca, NY – Cornell University
10/18 Toronto, Canada – Horseshoe Tavern
10/19 Detroit, MI – Magic Stick
10/20 Chicago, IL – Bottom Lounge
10/21 Minneapolis, MN – 7th Street Entry
10/23 Missoula, MT – The Badlander
10/24 Seattle, WA – Tractor Tavern
10/25 Vancouver, Canada – Biltmore Cabaret
10/26 Bellingham, WA – The Nightlight
10/27 Portland, OR – Doug Fir Lounge
10/29 San Francisco, CA – Rickshaw Stop
10/30 San Jose, CA – Blank Club
10/31 Visalia, CA – The Cellar Door
11/1 Oakland, CA – Uptown
11/2 Los Angeles, CA – Echo
11/3 San Diego, CA – Casbah
11/4 Tucson, AZ – Plush
11/6 San Antonio, TX – Sam's Burger Joint
11/7 Austin, TX – Fun Fun Fun Fest
11/8 Houston, TX – Numbers Night Club
11/10 Barton Rouge, LA – Spanish Moon
11/ 11 Memphis, TN – Hi Tone
11/ 13 Atlanta, GA – E.A.R.L.
11/ 14 Hoboken, NJ – Maxwells
11/15 Allston, MA – Great Scotts
11/16 Philadelphia, PA – Johnny Brenda's
11/17 Brooklyn, NY – Brooklyn Bowl
11/18 Buffalo, MY – Mohawk Place